Medical Work, Rehabilitation and Public Health
History of the Evergreen Medical Team
In 1995, in collaboration with the Shanxi Department of Public Health, Evergreen doctors began working in Yangqu County. We did village doctor training throughout the county, began seeing patients at the Yangqu County Hospital, and taught health care workers at the Dayu Township Hospital and Yangqu Public Health School. Soon we added screening programs for children and pregnant mothers, and the "Samaritan Program" to financially assist poor patients in need of medical care. Most recently we added lactation education and clinical consults in all three regions where Evergreen works, as well as Journal Club at the Yangqu County Hospital.
From 2001-2007, we participated in a nationwide Family Medicine training program conducted in Taiyuan, while at the same time becoming involved in another national program charged with developing community health centers in every neighborhood of the city. In the early 2000's we began seeking ways to be involved in orphan care in Taiyuan, which evolved into regular monthly consults for the orphans cared for by Evergreen's SOAR Project today.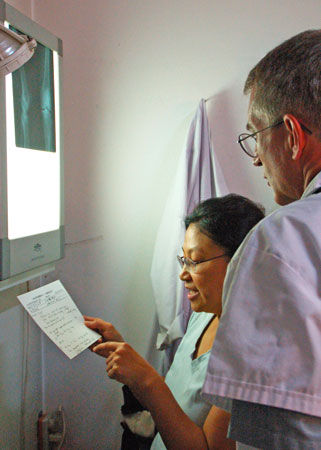 In 2003, we expanded our work to Jinzhong (Yuci), where the focus was public health research and education, again in collaboration with local leaders in the medical community, including the Shanxi Medical University and several hospitals. We have done screening, prevention, and education programs for diabetes, hypertension, metabolic syndrome, lead toxicity, tuberculosis, and rickets, as well as provided support to the local Community Health Service in establishing medical records, carrying out chronic disease management, and clinical care for a community of over 20,000 individuals. China's healthcare reform in 2008 focused on reestablishing a primary healthcare network and, because of Evergreen's partnership with a community health service center to implement the new policies and its experience in developing a model for screening and chronic disease management, the team was in great demand for training and consulting work all across the province.
Beginning in 2010, we expanded into rehabilitation work, first in stroke rehabilitation, now also providing care for patients and training through community health centers and the Physical Therapy Department of a Taiyuan hospital, as well as helping weekly with the SOAR Project.
In addition, we have facilitated visits to our province by dozens of foreign medical experts from institutions including the Mayo Clinic and Johns Hopkins and offered a medical practicum program for medical students and residents. Finally, Evergreen Medical Team members were instrumental in establishing one of the first medical fellowships for medical workers in China.
For more information about the Evergreen Medical Team, current projects, or how to join us, please contact us.