Education for children is one of the largest concerns for families in China – success in school can determine the future for the entire family. Supplemental programs are often sought out to assist kids through trouble spots or provide more and better experiences. Adults also look for English opportunities for themselves. Through our educational programs, Evergreen strives to come alongside families and support them in this need by providing opportunities to grow and improve academically, as well as in life skills and character.
Evergreen's educational programs fall into the following categories: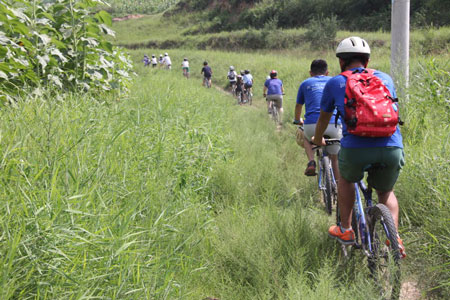 English Camps
Learning English is a critical skill for Chinese children, as this allows opportunities for higher education and better jobs. However, lack of exposure to native English speakers leaves them unable to perform necessary oral English tasks.  Evergreen's camp programs are adventure-based and interactive, utilizing outdoor and sports activities as well as classroom learning to allow each child to grow in English, social, and leadership skills.
During school holidays, Evergreen offers a week-long overnight camp experience at our Joy in the Journey Camp (JJ Camp) in Yangqu.
Interested in joining us for camp? Please contact our International Office for more information.
Update on RED / Yangqu Community Center
For over 15 years, Evergreen served hundreds of people of all ages six days a week through our Regional Educational Development (RED) Project in Yangqu. Our Community Center provided a library, family services, English classes, other educational activities and resources, social events, opportunities for volunteerism, and social work services for children and adults. To adapt to local changes, RED has now legally separated from Evergreen and continues to provide many of the services as before, though they function under a new name as a local non-profit organization.
We encourage donations to RED. You can donate funds to Evergreen, and under "Project" designate "RED NPO" as the beneficiary.
For more information about Evergreen's work of encouraging local non-profit organizations, click here.