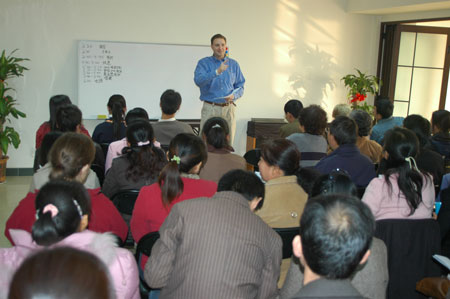 Evergreen International Office
Evergreen's International Office is in Taiyuan, the capital city of Shanxi Province, China. All administrative aspects necessary to running Shanxi Evergreen Service are handled through this office, located in the Taiyuan Training Center (TTC). Created in 2005 as the international center for Evergreen operations, the TTC houses Evergreen professionals who are responsible for all the critical business, financial, and legal functions necessary to maintain a business in China with the highest integrity. The TTC also serves as a meeting place for community activities; TTC's meeting rooms are used for Evergreen to connect with government officials and business leaders, as well as for weekly studies, English classes for Chinese professionals, Chinese language school for Evergreen members, and training areas for special programs such as social work and leadership. Another key function of the TTC is serving as a visitors' center. Visitors can walk the Evergreen history hall where they can see photos of Peter Torjesen and other pieces of Evergreen's past, and can browse displays of Evergreen hand-cut cards.
Evergreen North American Office
On the other side of the world, Evergreen's North American Office is based in Colorado Springs, Colorado.  The International Office and the North American Office work in tandem to ensure:
Evergreen is in compliance with the highest standards of business governance and integrity.
Accurate accountability of all funds coming in from many countries, individuals, seconding organizations, churches, and businesses.
Our team members on the field receive their funds on a timely basis to care for themselves and their families.
Donations for special projects get delineated appropriately and reach their destinations.
News and publications about our projects China reach you in a timely manner with accurate information.
We have in place the systems, procedures, and structures that enable us to respond immediately to needs or requests, whether local or international.
Timely follow-up for new and potential Evergreen candidates.
The best part is that statistics show we are NOT top heavy—these people are able to perform these functions at an incredibly small percentage of our annual budget!  Therefore, it is with gratitude that we recognize these key team members and the valuable services they perform with such excellence.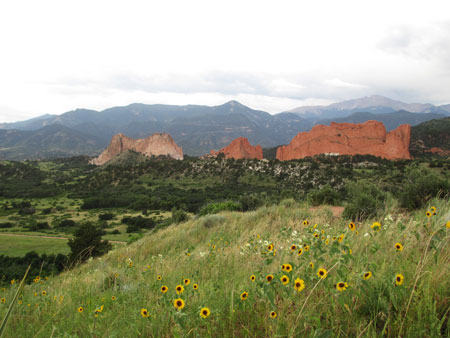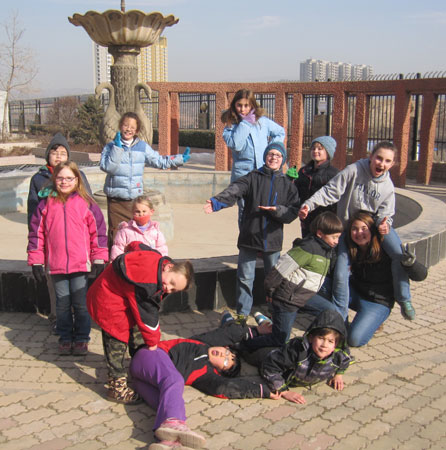 Shanxi Evergreen International Students (SEIS)
The SEIS team was created to help with the educational needs of the expatriate families of Evergreen, emphasizing quality education with integrated Biblical principles. SEIS enables Evergreen members to stay on the field and focus on their work without worrying about educational needs or exorbitant schooling costs.
SEIS prioritizes children from kindergarten to grade eight, but also provides support and resources to high school students who are doing independent study. The SEIS team follows American curriculum in an English-language environment. A local Chinese language teacher assists with Mandarin acquisition for all students.
 SEIS strives to:
prepare students mentally, socially, physically, emotionally, and spiritually to live godly lives in Chinese and home-country societies,
equip students to interact comfortably with Chinese people, and
aid students in making a smooth transition to their home country and higher education.
Evergreen has an ongoing need for long-term certified K-8 teachers. Please contact the International Office for more information.